What Is A Letter Of Intent?
If you are looking for a job position, you probably have come across the requirement to send a letter of intent. But do you actually know what it is, its main peculiarities, and general rules of creating such paper? If no, then this article will be of great help to you.
To begin with, a "What is a letter of intent" (or letter of interest, as some people often call it) is a letter that aims to reveal your intentions about working at a particular company. It is your great chance to explain why you are the best applicant for a definite position and what benefits you can bring to the enterprise.
All in all, a letter of intent is appropriate when:
you heard that the employer is searching for new staff even if there are no job ads;
you want to submit the resume at a job fair;
the employer has posted the position out of your expertise but also is ready to hire the specialist with the same experience and skills as you have;
you are researching the enterprises and come across a company that you believe may become a good choice for your professional growth;
Despite whether you want to express your interest in working in a particular company in general or a particular position, make sure your letter of intent is professionally written and includes only relevant information.
What to Include to a Letter of Intent?
Even though a letters of intent must be unique, revealing your skills and knowledge and must contain a certain letter of intent format, it is expected to contain five basic elements. Let's look at them closer:
Greeting. The best way to start a letter of intent is to use a professional salutation. Make research and learn the hiring manager's name or the employer to mention it in the paper opening. Call the office and ask for help in case you do not clearly understand whom to address the letter to.
Introduction. Next, you need to introduce yourself and give the reason for writing. If you are not going to apply for a definite position, then express a general interest in the company. Here you also can talk about the preferable type of work, for example, managerial position or any other position in one of the company departments. It is important to sound general instead of being too specific in case you do not know the exact position you are looking for.
Body. In this section, you are expected to highlight your relevant skills. Do your best to connect them to the job listing. Make sure that you have studied well a job description and all listed requirements. Add at least one/two requirements in your letter and explain how you meet them. It would be great if you can add a few examples from your previous experience. If you have no specific desire about the position and are interested in working at a particular company, demonstrate how well your skills may fit your needs. The closer you are, the higher your chances are to join a chosen enterprise.
Call to action. Add a short paragraph on how you will follow up. Or, you may mention that you will wait for the response from the manager/employer if the job listing doesn't say to follow up.
Closing. It is necessary to finish a letter of intent sample with a professional closing, for example, "Sincerely", or "Best". In case you send the letter via email, put an email signature. A printed letter of intent should contain a handwritten signature and a typed name.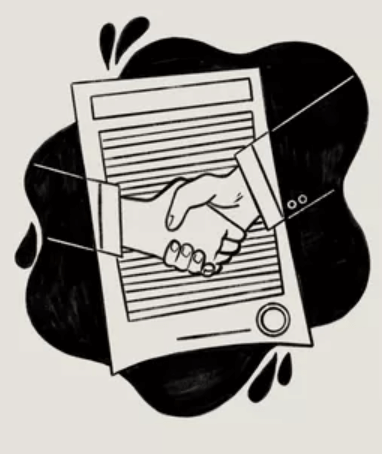 Efficient Tips on Writing a Letter of Intent
In case this is your first time writing a letter of intent example, look carefully at these simple but still very effective tips to make the overall preparation process less stressful:
Mind formatting. A letter of intent must be written in a business format. Add the contact details, the date, and the contact data of the employer.
Watch a subject line. If you are going to send a letter in the email body, then pay special attention to the subject line. It must include a clear reason for writing. Your name and job title are required in case you are applying for a definite job. If you are demonstrating your interest in the company in general, add your name and phrases like "Job Inquiry" or something like that. In case you have decided to send your letter via email, avoid adding contact information or date. Instead, mention the contact details in the email signature.
Research the company. It is highly recommended to research the company to find out its mission, corporate culture, and needs before writing a letter of intent. It is especially crucial in case your letter is a cold call. Be ready to explain how you will help the team realize its mission. It's evident that you will be able to do it only if you know the company's values.
Avoid rephrasing. There is no need to provide your whole career history. Instead, pick up your own strongest qualifications and discuss them. Such a letter's main purpose is to present your best credentials, making the employer willing to read your resume and invite you for an interview.
Include a bullet list. The letter should not look like all-in-one text that will be difficult to read. Consider a section with bullet points to present your qualifications. As a result, they will get a necessary portion of attention thanks to standing out of the overall text. A careful boldface using may also attract the employer's eye.
Keep it short. The maximum length of your letter of intent should be one page. If it is longer, the hiring manager will not likely read it to the end; hence your chances to realize the initial purpose are low.
Mind the language. It is important to use Active voice instead of Passive Voice in your letter of intent while talking about your experience and skills.
References. You can also mention your former colleagues in your letter in case they know about this and do not mind. In such a way, you may draw a clearer vision of your expertise and previous experience. However, you should be careful not to put a strong focus on other people. Avoid any negative mentions as well.
Check the letter. Once the paper is ready, it is high time to proofread it. Mind to check the text to make sure it has no spelling, grammar, or punctuation mistakes. You can use one of the online tools to improve its quality or ask some friend or a family member to have a look at the letter and say whether it requires some changes.
Letter of Intent: Sample
If you want to write a winning letter, then it is necessary to look at a good example to catch the overall idea and extra details.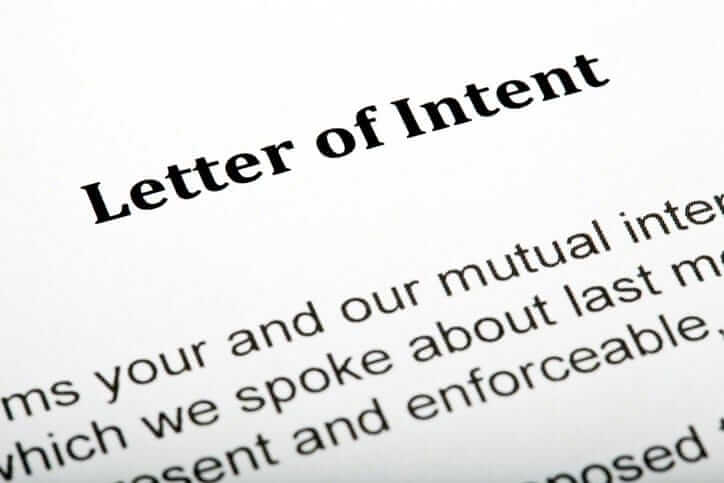 Here is a nice template that may inspire you and help with creating your own letter of intent template:
Dear Helen Flowers,
My name is Sarah Parkers. Recently I graduated from the Royal Holloway University of London with an M.A. in Creative Writing. MagicLand has an incredible portfolio of work with a great mission to craft unique content for all people, despite their background. Please, look at my request for work in your inspired team.
While being a student of the Royal Holloway University of London, I studied various aspects of copywriting and journalism, including MLA-style editing, short and long-form web content, human interest writing, etc. Additionally, I took courses on search engine marketing and search engine optimization. While being an undergraduate, I worked in the university newspaper team as a staff writer. In my free time, I worked as a freelance author for a few blogs.
As MagicLand is focused on delivering top-quality, unique content, I am sure that my skills and experience may make a great contribution to the company. If MagicLand is looking for new copywriters, please let me know about any available positions. I include my resume to provide more details on my experiences, skills, and interests.
Best,
Sarah Parkers
Conclusion
All in all, you should remember the what is a letter of intent – to express your interest in a definite job position or a company in general. Thus, you need to keep in mind all the above-mentioned tips and peculiarities to create a professional paper that will prove your high professional level. In case you feel a lack of skills to write a letter that will surely grab the employer or a hiring manager's attention, then do not hesitate and apply for professional writing services. Cooperation with experts will save your time and increase your chances for overall success.